Description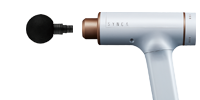 6 INTERCHANGEABLE MASSAGE HEADS – You'll find the perfect massage tool to workout your aches and pains. Easy to change.
ROUND

Round shape for use anywhere on the body such as arms, back and hips.

FLAT

Flat Shape for large areas such as back, thighs and calves.

FORK

Fork shape for thin areas such as the neck, spine, and upper arms.

WEDGE

Wedge shape for muscle-bone boundaries on shoulders, back, etc.

BULLET

Bullet shape for deep muscle tissue such as joints, palms and soles.

DOUBLE

Double uses soft material for gentle massage of the whole body such as shoulder and thighs.
Product Specifications
Product Name
Muscle Percussion Gun – Kitta
Product Code
HM190
Color
White Pearl
Adapter Input
100-240V 50/60Hz
Adapter Output
DC16.8V 0.8A
Battery Type
Li-ion 2000mAh 14.8V
Battery Life
Approx. 5-10 hours
Battery Charge Time
Approx. 2.5-3 hours
Size
Approx. W57 x D230 x H221 mm
(W2.2 x D9.0 x H8.7 in)
Weight
Approx. 685g (1.5lb)